The Circle of Life.
A clever environmentally friendly idea by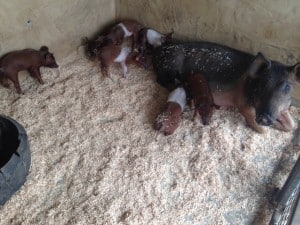 Pace Pallet Services has ensured that any timber we cannot use for pallets, skids or crates is being well used and also reduces our carbon footprint.
Not far from our office is the Calmsley Hill Farm with its operating farmyard, a very popular place for schools and families to visit and to get a taste of the country.
Pace Pallet Services founder Michael Mourad says he offered to supply them with
saw dust and wood shavings, which come from the damaged pieces of timber that can no longer be used, "We are supplying the material free of charge. This is good use of our by-product because eventually it ends up back in the ground and it is saving the farm money at the same time."
"We use it to lay in the animal pens and the chicken house.
When mixed in with straw it provides a good bedding for the animals" advises Calmsley Hill Farm General Manager Noah Mosely, "I noticed yesterday the gardening team had even spread some over part of our veggie patch."
The timber by-products are useful for us in many ways and we are grateful it helps in both directions.
Thank you for your interest, your Pace Pallet Services – Team.