Custom Design Crates & Boxes
Heavy, bulky industrial machinery…unusually shaped products that have to be stacked together…fragile glass or plastic containers…motorbikes or historic vehicles…livestock. Pace Pallet Services has a crate, box or custom design solution to store and move every object. From quantities of 1 to 1000.
Our seamless custom design-manufacturing service saves money because we can maximise the number of products per shipment compared to what a standard-sized crate or box will allow. By designing it to suit the dimensions of your product we can minimise movement and breakage during transport.
If your product is of a certain weight or fragility we can add bracing or a combination of materials (kiln dried pine timber and hardwood, with metal brackets), as well as tie-down points for strapping. The safety and protection of your product is assured by designing either a slatted crate or box – combining strength with weight reduction, plus the need for air circulation – or solid sides. The entry/exit process of your product is also considered – for example, when constructing a motorbike crate the hinged door doubles as a ramp.
Pace Pallet Services has comprehensive knowledge of the lifting, moving, carrying and stacking procedures of transport and logistics companies and we design each crate and box for ease of use.
We can design-manufacture crates and boxes for a wide range of applications – from mining machinery and manufactured parts to household appliances, construction products to steel panels, motor bikes to vintage cars, sheets of glass to wine bottles, exhibition and retail displays to luxury furniture, sculptures and artwork to livestock. Whether you need custom boxes or crates, we will design a solution for you.
Custom Boxes Sydney
Custom boxes can be used to store everything from precious personal mementos to your business's stock. If you require custom boxes in Sydney that are accurately made to your exact specifications, entrust the job to the team at Pace Pallet Services.
Our custom boxes in Sydney allow you to store or transport goods that may be of an unusual size, ensuring that they are kept safely.
Custom Crates Sydney
Certain jobs require you to seek out custom crates to ensure that your goods are transported and stored safely. If you need custom crates in Sydney to be made to certain size specifications, Pace Pallet Services make sure that you are happy with the end product.
For a complete pallet design–pallet manufacture and pallet management solution contact us today on 02 9604 2700.
Some interesting articles:
 The Basics About Timber Boxes And Crates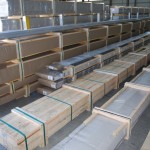 Custom Crate 15 Metres Long For Aluminium Extrusion