NEWSLETTER
November – December 2012  / ISSUE #4


PPM – TAKING PALLET MANAGEMENT TO A NEW LEVEL
Forever the innovator, Pace Pallet Services at Wetherill Park in Sydney's west has developed a holistic pallet service which is saving customers many thousands of dollars.
"We call it Pace Pallet Management or PPM and it is exclusive to Pace Pallet Services", says managing director Michael Mourad.
"Our years of experience in the pallet-crates-skid industry have led to the development of a unique system which ensures that businesses don't run out pallets and crates whilst providing attractive cost savings and benefiting the environment."
Pace Pallet Management (PPM) features inter-connected "Make Manage Recover Repair" services (M2R2): Pace Pallet Products (PPP), Pace Pallet Collection (PPC), Pace Pallet Repair (PPR) and Pace Pallet Waste (PPW).
"Not all companies know how many pallets or crates they have in stock – especially when they have more than one site – and can be caught-out when a large customer order arrives. Pace Pallet Services conducts regular audits of pallet stocks – as often as every week – and we provide weekly reports. This is what we call a 'lean yard stock' procedure."
Michael says when extra pallets or crates are required he can supply them on demand. Customers request extra pallets and crates using a software package developed by Pace Pallet Services. The dashboard shows stock levels and locations of stock and each type of pallet and crate is coded.
– Pace Pallet Products (PPP) is manufacturing of softwood and hardwood pallets, skids and crates to order.
– Pace Pallet Collection (PPC) is all about "reverse distribution" with a fleet of trucks recovering discarded and damaged stocks from all over Sydney.
– Pace Pallet Repair (PPR) is the re-birthing of damaged or discarded pallets or crates.
– Pace Pallet Waste (PPW) means that even unusable pallets have a useful purpose. The timber is shredded and used as animal bedding or mulch. This reduces the amount of timber being sent to landfill and reduces carbon emissions.

NOT THE CHEAPEST OPTION…BUT THE BEST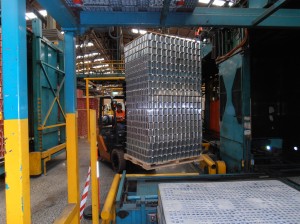 "Pace Pallet Services wasn't the cheapest option but we chose them because of the quality of their pallets", says Amcor's Ryan Maddox.
The company needed a timber pallet for international shipping of empty aluminium cans – to places such as Papua New Guinea and Noumea – which was similar to their domestic plastic pallet. Ryan says their previous timber pallets were expensive and had a limited life span. They couldn't justify the cost of continuing with them.
Michael Mourad, founder of Pace Pallet Services, says
"We reviewed previous designs and understood the constraints that we had to work to. The pallet had to be a four-way design so it could be forklifted from all sides. And, it had to adapt to Amcor's automated packing and strapping machines. A prototype was made and tested on the production line and it was an immediate success."
"Pace Pallet Services were able to design a timber pallet to our specifications, meaning there is no difference in the production process, and the quality was better than any of the other pallets we assessed", adds Ryan, "The new pallets are fantastic, nothing on the production line needs to be changed."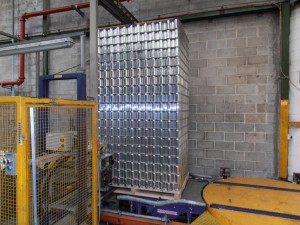 Michael says the types of products being carried on the pallets contributed to the design, "We endured that there was adequate surface area on the bottom of the pallet to prevent the cans from being crushed when they are top loaded."
Ryan says strength-of-design was an important factor because the pallets aren't treated all that well when they are sent overseas and they have to be re-used when goods are returned to Amcor in Australia. "We're not having to purchase as many pallets as before because they are holding up to the punishment of international shipping."
Michael says total pallet cost doesn't end with the purchase price and when it came to providing Amcor with a cost-effective solution many other factors were involved, "A well designed pallet allows for more cycles, it can be re-used over and over and reduces the need to buy more new pallets. It has to eliminate production down time, such as jamming on machines, and be stable and reliable to improve safety for all concerned. It is our responsibility to provide the best solution to our customers even if it means less pallet orders."

GREEN FRIENDLY SOLUTION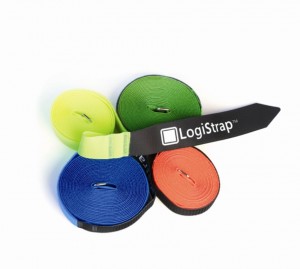 Pace Pallet Services is now an agent for the VELCRO® Brand LOGISTRAP® which are a smart alternative to Shrinkwrap.
By attaching the self-gripping tape around the top row of cartons the whole pallet load is prevented from collapsing or spilling.
The re-usable straps maintain tension and don't cut into the corners of cardboard boxes. At the same time, the VELCRO® Brand LOGISTRAP® can be applied to a stack of cartons or other objects faster than the time it takes to apply several layers of Shrinkwrap.
By changing to the VELCRO® Brand LOGISTRAP® you can help us to preventing millions of metres of plastic from going to landfill.

MERRY CHRISTMAS & HAPPY NEW YEAR
The team at Pace Pallet Services wish you a happy and memorable Christmas celebration and we look forward to serving you in the New Year. Take care.