NEWSLETTER
March – April 2013  / ISSUE #5


A VERY LONG STORY
How long? At least 11 metres long. The "Extreme Oversize" timber pallets created by Pace Pallet Services for Sheet Metal Manufacturers were a good example of our ability to custom-design a solution to an unusual request, with complete understanding of the engineering strengths of our timber materials, whilst keeping the overall cost within budget.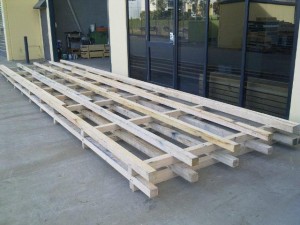 Our customer needed heavy duty pallets to carry loads which varied a lot in length and weight – from 6 metres in length to more than 11. The loads of steel products used for rail carriages weighed up to 2 tonnes. The products were shipped from the Eastern Seaboard all the way to Western Australia meaning the extra-long pallets had to survive a long journey.
"The job itself was quite unique because the longest length of pine timber is 6 metres. For anything larger than that we had to think outside the square and join timbers to make up the length whilst not compensating the overall strength of the pallet", says Pace Pallet Services Managing Director Michael Mourad.
Michael chose pine timber over hardwood because it was more cost-effective but what this meant was that he had to design the pallets in such a way that they offered outstanding integrity and durability from a "soft" product.
He says another option available to the team for high-load scenarios such as this is a hybrid pallet in which the pallet is made from a mixture of pine and hardwood. Not only is the hardwood able to take greater loads, during assembly the nails are skewed a certain way to penetrate deeper into the hardwood bearers adding a lot of strength to the pallet.

PPM™ AND M2R2™ BRING GREATER COST EFFICIENCIES TO THE PALLET INDUSTRY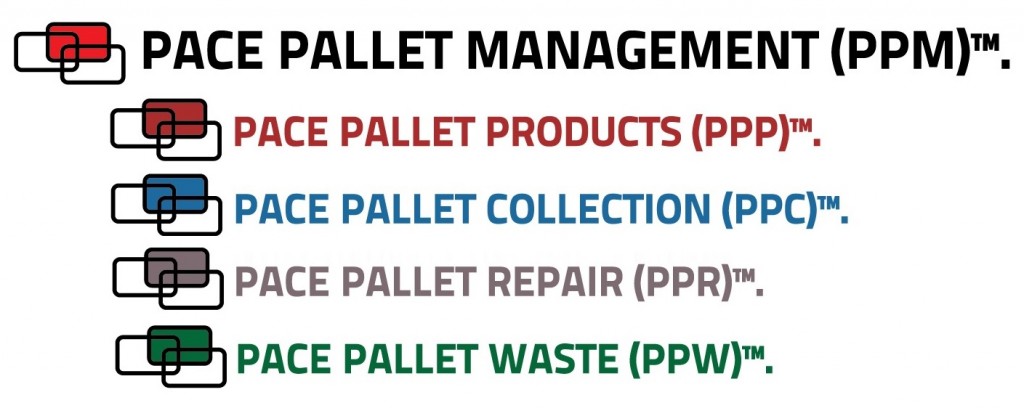 A revolutionary holistic "system" developed by Pace Pallet Services of Wetherill Park in Sydney is radically changing the way companies use their pallets and crates. And it is saving them thousands of dollars.
Known as Pace Pallet Management™ (PPM™) it is a complete Make-Manage-Recover-Repair (M2R2™) offering. PPM consists of 4 core services which interrelate with each other: Pace Pallet Products (PPP™), Pace Pallet Collection (PPC™), Pace Pallet Repair (PPR™) and Pace Pallet Waste (PPW™).
Typically, in any yard reliant on palleting or crating of products, there are stacks of mixed types of pallets and crates in various conditions. From new to needing repair to being disposed of. Companies often have little knowledge of stock quantities and – just in case – order more than they need to cover that potential peak in logistical movements. What this means is that thousands of dollars of pallet stock is sitting around unused. Another common scenario is when a company receives urgent orders and finds itself short on pallets.
The most cost-efficient solution is PPM™. This is based on what we refer to as the "lean yard stock" procedure.
By combining our Make-Manage-Recover-Repair services we ensure that a company has the right amount of pallets available at all times and it doesn't have to transport and store unnecessary quantities. Knowing that there can be fluctuations in the numbers required each week, Pace Pallet Services conducts regular audits of pallet stocks. We provide our customers with ongoing reports on the types and quantities of available stock. The information – such as the type of pallet and where it is located – is easily available using the exclusive software package which we developed. All it takes is a few keyboard clicks for a customer to know their pallet inventory. Each type of pallet and crate is coded which makes it a very simple process when they need to order fresh stock. The software is linked to our workshop which immediately responds to new orders.
The cost efficiencies continue via our pallet, skid and crate design service – Pace Pallet Products (PPP™) – which uses CAD software to create customised solutions in pine timber and hardwood; plus Pace Pallet Collection (PPC™) which provides Sydney-wide "reverse distribution", Pace Pallet Repair (PPR™) for re-birthing of pallets and the eco-friendly Pace Pallet Waste (PPW™) which takes pallets and crates that are beyond repair and shreds them to be used as animal bedding or mulch. This greatly reduces the amount of timber being sent to landfill and reduces carbon emissions.

OVER 2 METRES WIDE? NOT A PROBLEM!
The Challenge: design an oversized pallet to carry stacks of cartons nearly twice the size of a standard pallet.
Our customer manufactures DIY garden sheds which are flat packed so that they can be sold via a national retail chain. The cartons measure 2040mm x 950mm and a standard pallet is only 1165mm x 1165mm.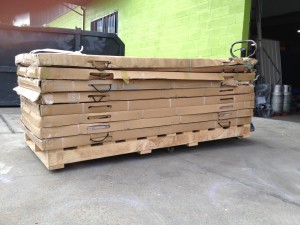 We realised early on that a forklift or pallet jack would have to approach the pallet from the long side which is unusual. In spite of the unique dimensions we soon designed a pine timber pallet with our CAD software to the dimensions of the cartons. We put an extension tine on our forklift and put the pallet through its paces with heavy loads of flat pack sheds. It worked well. Being a one-of-a-kind pallet, the retail chain was keen to test its strength and integrity and so they sent an OH&S team to conduct a lengthy series  of tests.
The outcome was that the Pace Pallet Services design passed with flying colours and an order was placed for supply nationally. Happy customer and happy retail chain.