NEWSLETTER
JULY – AUGUST 2012  / ISSUE #2


KEEP UP TO PACE ON FACEBOOK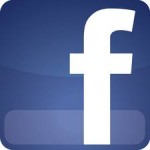 We have launched another convenient way to stay in touch with Pace Pallet Services via our Facebook page. Feel free to comment on our posts and stories, and use it to keep up to pace on our latest designs and innovations. If you have an iPhone or tablet and haven't done this already, you can upload the Facebook mobile app and stay connected any where you go.
Simply go to: http://www.facebook.com/PacePalletServices

Palette of Urban Green was a great Success at the recent Sydney Vivid Festival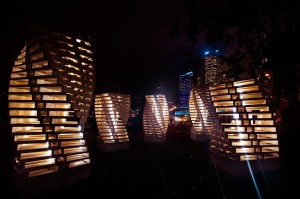 Renowned young Australian designer William Chan, the inspiration behind the Palette of Urban Green "sculpture" which was created with Pace Pallet Services for this year's Sydney Vivid Festival, has been amazed at the public response, "The responses to Palette of Urban Green have been overwhelming and encouraging. It's a humbling experience to be on-site and see the community experience my artwork and interact with so much delight. People have expressed their surprise in the unexpected use of pallets as they only realise it when they immerse themselves closely with the installation. It is inspirational that well considered design can have such a positive impact to the public. It definitely has furthered my passion for people-oriented design."
Pace Pallet Services' Managing Director Michael Mourad echoes the response, "During the Festival I had several opportunities to go into the city and view the exhibit and every time it was surrounded by photographers with their tripods and members of the public. It was interesting to see the look on their faces when they suddenly grasped the fact that the main component of the towers was a wooden pallet."
"At Pace Pallet Services we are all about creative solutions. Customers come to us with all kinds of products that need to be safely transported nationally or overseas. For us, this Festival has been a strong statement that we are much, much more than a provider of pallets."
William says using the pallets meant pushing the design envelope, "As a designer I'm used to creative problem solving but this experience has allowed me to learn and really push the boundaries of architectural design. From concept to reality, my exhibit took six months of intense work. The manufacture of the LED lights, pallets, steel columns and one-tonne concrete bases had to be carefully arranged to meet the extremely tight deadlines to ensure project delivery. Being involved in such a high calibre international ideas festival has been genuinely rewarding."

15-METRE LONG CUSTOM CRATE!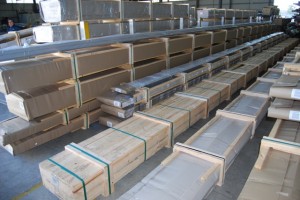 Proving that unusual dimensions are not a challenge to the design team at Pace Pallet Services, we have created and manufactured crates that are 15m long for shipping of aluminium. The extrusions are used in the manufacturing of semi-trailer bodies. By coming up with this unique crate we were able to protect the material during shipping which involves the use of overhead cranes due to their size. The crates were sent to our client as sub-assemblies and interconnected on-site. No matter what type of object(s) you need to transport, we can create a Pace Crate, Pace Pallet or Pace Skid to make that journey safe and reliable. And we haven't been "stumped" yet!

ZERO FAILURE RATE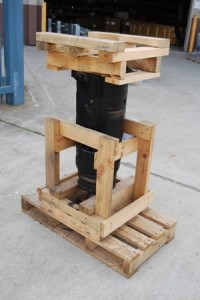 The product is a fragile and expensive part used in trains and if the outer casing is accidentally cracked it can't be used and has to go back to the manufacturer. It has to be shipped upright and it is top-heavy. Locomotive company Downer Rail regularly ships these parts to the United States and then they are returned to Australia. When the parts arrive at Downer Rail they are in a box and there is a risk that, if it took a decent knock while being road or sea freighted, the part could come loose and slam to one side. This was why Downer Rail contacted Pace Pallet Services asking for a custom designed timber crate. The unusually shaped Pace Crate is supplied in batches of 50 and to date not one part has been damaged in transit.
"They looked after everything for us including making sure that the timber was treated in accordance with international regulations. Pace Pallet Services is a very professional company and they are very detailed about getting everything right. If we have any other issues with regards to shipping of parts we go straight to them", says Warehouse Manager Laurie Camara.