PROJECT:         Custom Crate for Locomotive Components
CLIENT:           Downer EDI Rail
CHALLENGE:    Custom Crate, Platform and Lid for shipping Train power Packs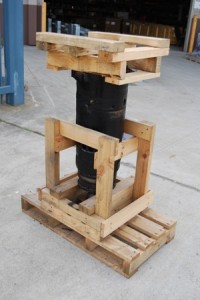 The challenge was to come up with a timber crate designed to protect a rather fragile locomotive component while it was freighted from Australia to the United States and back again.
"The parts came to us in a box that, if it took a decent knock while being road or sea freighted, could come loose in the cradle and slam to one side. It doesn't take much to crack the casing and if the part was cracked it couldn't be used and would have to be sent back", says Downer Rail Warehouse Manager, Laurie Camara.
Laurie contacted Pace Pallet Services and asked for a customised crate to be designed and built,
"The part had to be shipped upright and it was top heavy so it required a unique design as well as the toughness to cope with nationwide and international freighting."
Since the new Pace crate was introduced – they are supplied to Downer Rail in batches of 50 and to date over 100 are in use – not one part has been damaged in transit.
"We relied on Michael's expertise to help us out and he has done really good work to reinforce the crate to withstand the rigours of being moved from place to place and to make sure the part doesn't move about inside", adds Laurie, "He looked after everything for us including making sure that the timber was treated in accordance with international regulations. He is used to making crates and pallets for international freighting so is well aware of what had to be done. Pace Pallet Services is a very professional company and they are very detailed about getting everything right. If we have any other issues with regards to shipping of parts we go straight to them."