PROJECT:         Australian Pavilion, Shanghai World Expo 2010
CLIENT:           Bluescope Steel
CHALLENGE:    Custom design a crate for shipping of 6,000 square metres of multi-curved steel cladding panels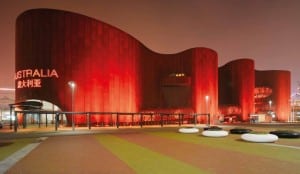 PACE PALLET SERVICES CONTRIBUTES TO AUSTRALIAN INTERNATIONAL SHOWPIECE
The $61M Australian Pavilion at the Shanghai World Expo 2010 was an impressive structure that epitomised our nation with its rustic steel exterior. The facade for this 50-metre high building was thousands of BlueScope Facade Solutions Azure™ panels made from XLERPLATE® weathering steel. A total of 6,000 square metres of cladding was required. The architects (Wood Marsh in partnership with Think!OTS) wanted the pavilion to represent Australia's Red Centre in an abstracted and sculptural way, especially Uluru. In their words, "It was important for the pavilion to be both uniquely Australian and an excellent piece of design."
At the same time Bovis Lend Lease Projects Shanghai was handed a tight time frame of just 12 months to complete the project. This meant that the speed and ease of construction were important considerations, as well as the task of removing the panels to ensure a smooth and rapid disassembly when the 184-day Expo was over. Pace Pallet Services had an integral role in helping to achieve this outcome.
The steel panels were individually shaped and cut in Australia to form the overall structure with its curved walls and undulating roof line. They had to be shipped to China and installed by Bovis Lend Lease. In order for the panels to be quickly unloaded on-site in the correct sequence Bluescope Steel came up with a new panelised cassette system. Bluescope Steel Facades Business approached Pace Pallet Services for their assistance,
"Weathered steel panels are normally used in bridge making or industry but this was the first time we had seen them used as a a facade in a high-end architectural project. We needed someone who had the ability to come up with a smart way of crating the panels. The crates had to be a specific size to protect the panels, and consolidate in containers for the trip to China. They had to be easy to unload as well as to load. The challenge is often in the unloading. It is easier to push a steel panel into a crate than to pull it out, especially when you need a second person to get access inside the crate."
Pace Pallet Services designed customised treated pine timber crates that were an exact fit for the mixture of curved steel panels. The crates could safely take their weight without being unnecessarily over-constructed. They could be stacked, forklifted, and were designed to make it easy for the construction crew to extract the panels on-site.
The architects were very impressed with the solution,
"The crew that installed the facade was excellent. Once they mastered the sequence of the installation they were able to move very quickly around the building, and it took just two months to complete the cladding. It's very easy to unpack the panels and we kept the packaging so that they can be shipped back to Australia for re-use afterwards."
Adds Steve,
"We appreciate the assistance we received from Pace Pallet Services. They designed and manufactured all of our crates under the one roof. Despite the enormity of this project they met all of our deadlines and the project went like clock work. This was a very exciting and dynamic project to be involved in. It was as high a profile as you can get architecturally apart from the Olympic Games."
For a complete pallet design–pallet manufacture and pallet management solution contact us today on 02 9604 2700.