PROJECT:         Custom Pallet for Aluminium Beverage Cans
CLIENT:           Amcor Beverage Cans
CHALLENGE:    Design and Manufacture a Multi-Use 4 Way Custom Pallet for use on Automated Machinery.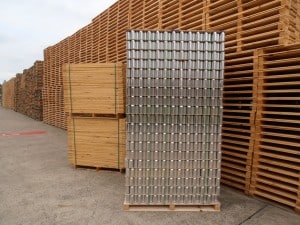 "Pace Pallet Services wasn't the cheapest option but we chose them because of the quality of their pallets", says Amcor's Ryan Maddox.
The company needed a timber pallet for international shipping of empty aluminium cans – to places such as Papua New Guinea and Noumea – which was similar to their domestic plastic pallet. Ryan says their previous timber pallets were expensive and had a limited life span. They couldn't justify the cost of continuing with them.
Michael Mourad, founder of Pace Pallet Services, says "We reviewed previous designs and understood the constraints that we had to work to. The pallet had to be a four-way design so it could be forklifted from all sides. And, it had to adapt to Amcor's automated packing and strapping machines. A prototype was made and tested on the production line and it was an immediate success."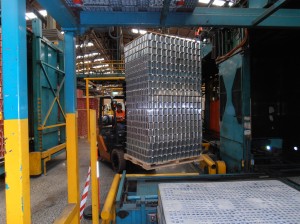 "Pace Pallet Services were able to design a timber pallet to our specifications, meaning there is no difference in the production process, and the quality was better than any of the other pallets we assessed", adds Ryan, "The new pallets are fantastic, nothing on the production line needs to be changed."
Michael says the types of products being carried on the pallets contributed to the design, "We ensured that there was adequate surface area on the bottom of the pallet to prevent the cans from being crushed when they are top loaded."
Ryan says strength-of-design was an important factor because the pallets aren't treated all that well when they are sent overseas and they have to be re-used when goods are returned to Amcor in Australia.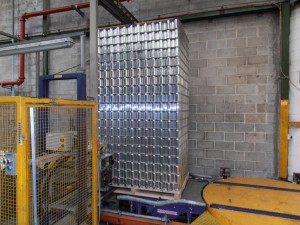 "We're not having to purchase as many pallets as before because they are holding up to the punishment of international shipping."
Michael says total pallet cost doesn't end with the purchase price and when it came to providing Amcor with a cost-effective solution many other factors were involved, "A well designed pallet allows for more cycles, it can be re-used over and over and reduces the need to buy more new pallets. It has to eliminate production down time, such as jamming on machines, and be stable and reliable to improve safety for all concerned. It is our responsibility to provide the best solution to our customers even if it means less pallet orders."