Custom Skids for Pontoons and Floats.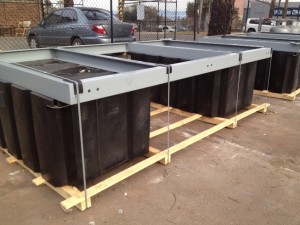 Dear readers,
My first contribution to the blog, hope you'll enjoy it. As this section of our website is dedicated to share interesting theme, I will maintain by that concept and share with you another custom work that we have done recently with our customer.
Our customer specializes in the design and manufacture of pontoons, marinas, jetties, gangways, bridges and associated components. They engineer and fabricate their own quality Australian made products in their plant in Sydney, NSW.
The challenge was to custom design a requirement to distribute steel frame pontoon and flotation modules, which are distributed to their customer in South Africa. The plastic floats are made from high impact and stress crack resistant UV stabilized polyethylene and are designed to be bolted to a structural frame. The modules are hollow and have the ability to be filled with ballast to increase stability.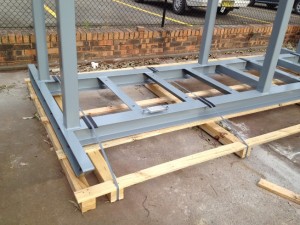 Our customer provided us with technical drawings, over viewing the specs from the positioning for the runners and bearers to the millimeter and which timbers to use to construct the skids. This is important to follow because the specs has to suit the products/legs/fragile points and weight distribution. Throughout the stages, we work closely with our customer and devote time to discuss and gather understanding on the packaging's purpose and where we can explore alternatives to save cost. We were pleased with the outcome to use treated timbers to construct the skids. By doing so, we maintained the standard lead time, eliminate additional steps to heat treat the skids, which incurs significant extra cost.
I have included some photos to illustrate the outcome and success achieved by considering custom designed packaging. Don't hesitate to contact myself or Michael for assistance for your next requirement for skids, pallets, boxes or crates.